The International Nurse Coach Association (INCA) offers a variety of books, textbooks, evidence-based guidelines and articles. In the Nightingale spirit, INCA is committed to creating a healthier world.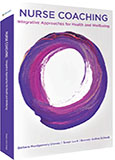 Our Award Winning Textbook
Nurse Coaching: Integrative Approaches for Health and Wellbeing
This groundbreaking book describes the theoretical and critical relevance and application of an innovative, integrative integral nurse coaching model.

1st Place – Nursing Education/Cont. Education.
2nd Place – Nursing Management & Leadership.
2nd Place – Community Public Health.
Available Now on
Amazon
Health Policy – Stay informed of local and global health policy initiatives in our communities.
Health Policy Documents
Integrative Community Resources
If you are interested in becoming an INCA partner, please contact us