The term Nurse Coach is a newer Nursing role to describe a Registered Nurse who has devoted additional time, energy and investment into obtaining extra training, education, and practice in developing the skills and presence to provide holistic and scientific-based health and wellness coaching, beyond their original Nursing school training.
A DISTINCT BREED OF NURSE
Nurse Coaches are a distinct breed of Nurses completely focused on enhancing the health and well-being of their clients, patients and communities.
Nurse Coaches deeply listen to uncover the stories unique to you, and then use these stories, along with your life experiences to co-create a wellness plan to fully support and honor your health.
TELLING YOU WHAT TO DO DOESN'T WORK
Nurse Coaches have learned that telling you what to do doesn't work. Instead, they take into account all that has transpired in your life, along with your future hopes and dreams, to establish a true partnership to help you uncover and voice what is important to you. This opens up possibility for you to take action as you live life to the fullest!
NURSE COACHES PASS CREDENTIALING VERIFICATION AND BOARD EXAMINATION
In many cases, Nurse Coaches take an additional step, and become Nurse Coach-Coach (NC-BC) or Health and Wellness Nurse Coach Board Certified (HWNC-BC), after passing significant credentialing verification and board examination. The American Holistic Nurses Credentialing Corporation's exams are accredited by the Accreditation Board for Specialty Nursing Certification (ABSNC) and are recognized by the American Nurses Credentialing Center (ANCC) Magnet Program.
HIGHLY DEDICATED TO PROFESSIONAL STANDARDS
All Nurse Coaches who obtain this board certification are highly dedicated to the rigorous process of professional standards, ethical practice and devotion to their craft. This equals expert care provided to you as a healthcare consumer, patient, community or business that chooses to partner with a Nurse Coach.
WHY IS THIS IMPORTANT?
Why is this important to you?
Your personal health (and that of your community) is your vitality! Time and important focus must be placed on enhancing health, mitigating disease and taking ownership of your health and wholeness. Health resilience is imperative to life satisfaction, and focusing on health and well-being (instead of disease) is your key to maintaining resilience.
RESILIENCE EMBODIES HEALTHY INDIVIDUALS THRIVING
"At it's core, resilience embodies a vision of healthy individuals and thriving communities, and a resilience-centered framework provides concrete actions people, organizations, and institutions can take to promote the sustainable and long-term well-being of communities in the face of adversity and disaster." (Wulff, Donato, & Lurie, 2015).
DEVOTED TO THE ART OF CARING AND THE SCIENCE OF NURSING AND HEALTHCARE
You see, Nurse Coaches are devoted to the art of caring and the science of Nursing and healthcare. Nurse Coaches are uniquely positioned to provide a distinct set of health and wellness coaching skills because they are committed to incorporating Nursing and healthcare-based knowledge and wisdom into all coaching interactions.
Nurse Coaches believe that even in illness, one can find a new meaning of health and thrive in it, through all stages of life.
INNATE KNOWLEDGE AND EXPERIENCE
Innate knowledge and experience positions Nurse Coaches beyond general health and wellness coaches, for Nurse Coaches truly understand the healthcare space and the absolute value of the whole-person approach necessary to navigate through medical systems and health-related challenges.
Nurse Coaches beautifully blend the art of caring and the science of healthcare and Nursing to help you feel and be your best.
HOW TO FIND A NURSE COACH:
ask for a Nurse Coach at your next healthcare provider appointment
ask your insurance company to access a Nurse Coach
google the search terms, 'Nurse Coach in my area'
contact at Blue Monarch Health
contact the American Nurses Association
contact the Integrative Nurse Coach Academy
email Nicole Vienneau Brain Protection Expert and Head Motivator here
ask your place of work to hire a Nurse Coach for worksite wellness
demand your human resources department to partner with a Nurse Coach for employee health
~Health Protection Expert & 'Head' Motivator!
Nicole knows how to inspire you with habits and behaviors that ward off illness. She understands the science to support your efforts and makes learning and action fun!
Nicole's Memere (grandma in French) lived with dementia after 13 strokes slowly stole her fire, her wit and her life. Through Memere, Nicole learned the gift of humor and creative ways of communicating using unsaid words and messages that are difficult to express. Nicole uses these skills to uncover purpose, vitality and health within her clients through the Build Your Health System at Blue Monarch Health, PLLC.
Nicole achieved a Master's in Nursing Science from the University of Arizona, and a board certification in Integrative Nurse Coaching from the American Holistic Nurses Credentialing Corporation. She is a personal trainer, yoga teacher and group fitness instructor, and Senior Faculty with the Integrative Nurse Coach Academy, and enjoys healing in nature while hiking the Pacific Northwest trails with her husband or lounging in the sun with her cat babies.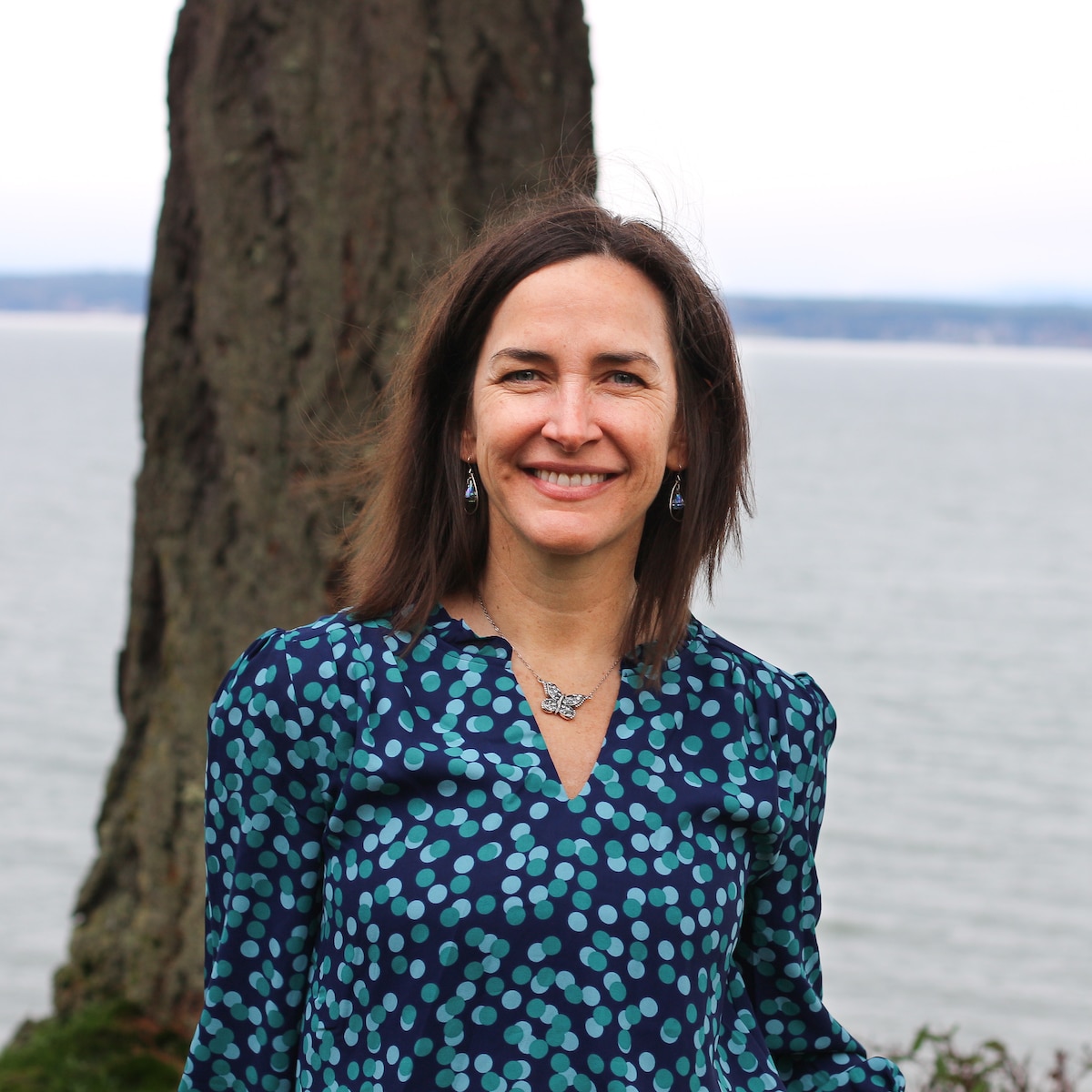 Nicole Vienneau is the founder of Blue Monarch Health, PLLC, a Nurse Coaching practice led by Registered Nurses who create actionable wellness plans to make brains and bodies feel alive.
She believes each person holds their own wisdom and power, and that there is no one-size-fits-all approach to healthcare, which is why she is so passionate about enhancing the power and voice of Nurse Coaches as co-founder of the National Nurse Coach Network.   She believes Nurse Coaches are essential to healing healthcare.
Nicole was an ICU RN for many years and suffered compassion fatigue.  She left bedside Nursing fearing she had lost her love of caring for patients.  What she discovered, was she needed to heal from the daily suffering and stress of the critical care environment.  On her journey to healing, she discovered Nurse Coaching which helped her instill joy, self-compassion and self-care into her daily life.  She attributes the Nurse Coach Community to her healing, and is why she is an advocate for Nurse Coaching for all Nurses!
Nicole is Senior Nurse Coach Faculty with the International Nurse Coach Association and the Integrative Nurse Coach Academywhere she thrives teaching Nurses health and wellness coaching through the Nursing lens.
Her educational background includes a Masters in Nursing Science and Systems Leadership from the University of Arizona (Go Cats!), a BS in Nursing Science from Grand Canyon University and a diploma in Nursing from Fanshawe College in Canada.  She also obtained an esteemed board certification in Nurse Coaching from the American Holistic Nurses Credentialing Corporation.
Nicole is a fitness professional with multiple certifications, yoga teacher, Nurse Coach activist, and a retired Reebok-sponsored fitness athlete and national fitness presenter and trainer.  When she's not coaching clients or writing blogs, you can find her teaching active older adult fitness classes, volunteering with the Alzheimer's Association, lounging in the sun with her cat babies, or on a hike with her awesome husband.