Even though it's such a critical part of healthcare, nursing is often a thankless job. Yet nurses persist, offering care and compassion every day.
To highlight these outstanding contributions, we're proud to offer a podcast,
INTEGRATIVE NURSE COACHES in ACTION!.
The podcast is intended for all listeners but especially for nurses, healthcare professionals, and consumers who can hear from inspirational and encouraging nurse leaders in the health and wellness coaching specialties. We discuss all of the latest and greatest innovations, ideas, and breakthroughs from nurses who are breaking down paradigms of disease care to health care through the art and science of nurse coaching.
Host Nicole Vienneau, MSN, RN, NC-BC, explores the unique perspective of a different nurse coach in each episode. Here's a look at some of our most popular recent episodes.
Nicole Piotrowski's passion is helping others become happier and healthier. She is an Integrative Nurse Coach Academy alum and works as an Integrative Nurse Coach promoting wellness, resiliency and guiding her clients through deep internal connections. She offers resources that enable her clients to heal and make meaningful choices for their lifestyles wholly. Piotrowski works with innovative healthcare teams (primarily start-ups) whose goal is to develop a new healthcare delivery model emphasizing relationship-based care and holistic care.
In her episode of INTEGRATIVE NURSE COACHES in ACTION!, Piotrowski dives into her own health struggles that inspired her to become a nurse coach and take control of her own healthcare. She covers her day-to-day life as a nurse coach. She explains how innovative nurse coaching is within the healthcare industry because of the profession's patient, client, family, or community-focused care. Nurse Coaching gifts the client ownership and decision-making power of their own healthcare. Integrative Nurse Coaches enable patients and clients to make meaningful changes (big or small), establish realistic goals, and make significant lifestyle behavior changes that all come together to make a huge difference in someone's overall health and wellness journeys.
As a nurse coach, Nicole strives to be a role model for her clients:
"Being a role model for your patients, and really, truly understanding what it is that they are going to be committing to as well. But then they also see that it can be achievable."
She finds that being open and honest about her own health struggles, diagnosis, and healthcare plans have encouraged her patients to showcase their sense of agency when it comes to their own care, make decisions that are best for them, and feel supported every step of the way.
Darlene Bell has been working as a nurse for over 20 years. She lives in CT with her 13-year-old son and believes in and encourages others never to stop learning. She has followed her love of learning, nursing, and entrepreneurship to build her own business, "Bell Vie Integrative Wellness". She encourages other nurses to form connections, learn the business opportunities associated with nursing, find their passions and purpose, and make sure their careers are filled with freedom, care, and joy to live a "Belle Vie," beautiful life!
In episode 18 of INTEGRATIVE NURSE COACHES in ACTION!, Bell discusses the entrepreneurship opportunities of nurse coaching.
"There's an entire world out there, whether you Google, or whether you go on social media, use those hashtags, find keywords, #Nurse Entrepreneurship, or anything in relation to what it is that you want to do. It's out there. … use technology as best as you can in a way that will empower you."
Nursing school often fails to teach business courses, components that benefit individuals later on in their career or if they switch careers altogether. There are a variety of opportunities available for interested nurses. Bell encourages listeners to seek out role models, connect with them, and ask questions they are curious about. She wants other nurses to be comfortable continuously learning- even years out of nursing school.
Even post-baccalaureate courses are available, like Integrative Nurse Coaching Academy's The Business of Nurse Coaching. The course can be taken in one or two parts, over 8-14 weeks, and is developed exclusively for nurse coaches. Courses like this help you become more self-aware and help you transform your present life into a life filled with meaning.
Nurse coaching helps build safe spaces for people to share their dreams, find their passions and purpose, and emphasize their values.
Janice Lanham is a veteran when it comes to nursing and nurse education. She is a faculty member at Clemson University's School of Nursing and a nurse coach. She understands the stressors of nursing school– the volume of chapters to read, meds to learn, countless exams to endure. The intense pressure to perform at the highest level 24/7 in class, on exams, in labs, and more, can lead to burnout for even the most seemingly well-prepared individuals.
Once nursing school is complete, the pressure and possibility of burnout remain, and it does so constantly. In a post-2020 world, it is evident that the pandemic has had a dramatic effect on the population's mental health but took a significant toll on nurses. Nurses and nursing students took the worst of the hit when delivering care and managing their own declining mental health and wellness. Lanham explains that over her 20-year career as a nurse and nursing educator, she has made a conscious effort to provide resources, support her students and colleagues, and make others aware of the adverse effects of burnout and how to avoid them best. She has tried to present a unique technique toward care and being an ally to her fellow healthcare community members.
Lanham advocates for nurses and continues to raise awareness regarding nurses' mental, physical, and emotional health. Lanham believes that burnout begins in nursing school and progresses rapidly without the proper preventive care and awareness.
"Burnout doesn't just happen when Nurses graduate and start working as a Nurse. In my opinion, I think that in Nursing school, we set them up to burn out because of the intensity and the rigor of these Nursing programs."
In 2021 JAMA of Psychiatry conducted a study and found that female nurses have double the risk of suicide as women in the general public. Studies such as this are conducted to support further and discover ways to support new and existing nurses and their overall well-being. Nurses constantly deliver care to their patients, but they can not continue to do so if they do not care for themselves. It is essential to focus on self-care, establish routines, be mindful of burnout, actively attempt to prevent it, stay on top of your mental health, check in on your healthcare friends and colleagues, and enhance your sense of joy, gratitude, purpose, and satisfaction. Listen to Janice's episode to learn more about burnout prevention.
No nurse can function when they are completely empty. Focus on caring for self and developing self-care routines are imperative to prevent burnout and potential risk of suicide and enhance joy, happiness, gratitude, calm, purpose, and satisfaction.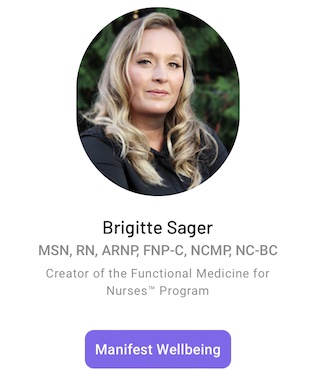 Brigitee Sager is the is the creative mind behind INCA's Functional Medicine for Nurses course. Brigitte has always been passionate about educating, empowering, and treating patients. Brigitte attended Georgetown University and graduated as a family nurse practitioner after working for eight years as a critical care float nurse.
She studying functional medicine during her four years as a primary care physician, and she went on to become a board-certified menopausal practitioner and nurse coach (through INCA). She currently instructs nursing students in addition to running a functional medicine consulting business.
In order to assist clients in making genuine, beneficial changes toward a happier and healthier life, she integrates her functional medicine expertise with her nurse coaching abilities in her practice. Through the Institute for Functional Medicine (IFM) & School of Applied Functional Medicine, she has studied functional medicine (SAFM). She is also finishing up her DNP in nursing at Washington State University.
The future of healthcare is healing, and as for, nurses, it is who we are. In order to promote maximum wellbeing and treat underlying causes of disease, patients and practitioners can work together as partners under the functional medicine model, which is customized, patient-centered, and science-based. It merely makes sense to combine this strategy with the distinctive knowledge and abilities of a nurse's art and science base!
In episode 30 of INTEGRATIVE NURSE COACHES in ACTION!, Sager offers an overview of functional medicine.
"When you use functional medicine, you find the "why" for someone, and it is always about their lifestyle, their exposures, their thought processes, everything that really aligned with Nurse Coaching for me, because I was able to help people guide through that process."
Through a team effort, functional medicine looks for the underlying causes of a patient's problems. Integrating healthy living practices into patients', clients', and communities' busy lives is supported by functional medicine. Stop minimizing the strong foundation that nurses currently possess. No other career prepares us for success like our schooling. Because of this, nurses can succeed at everything!
Ariana Ayu, RN, MSc- Lifestyle Medicine and Cannabis Nursing
Ariana Ayu is an INCA alum, Integrative & Holistic Cannabis Nurse Coach, and founder of The CannyNurse Program. Ayu is also a Transformational Mystic and a Catalyst for Constructive Change.
Like Janice Lanham, Ariana Ayu is a veteran in her field. She became a professional healer in 2000 and holds a multitude of certifications, including bio-field healing (Reiki, Reconnective Healing, Matrix Energetics, and more), hypnotherapy (including Past Life and Life Between Lives regression therapies), Deep Memory Process, and Ancestral Healing (with the late great Roger Woolger), and plant medicine (aromatherapy, flower essences, and cannabis therapeutics).
Initially ordained as a Priestess in 2004 and again through the Temple of Ascension in 2018, Ayu has continuously studied ancient and modern wisdom across cultures and traditions. She has sought to understand the inner workings of the body, soul, and spirit to find purpose on Earth.
Furthering her education in 2008, Ayu became a licensed Registered Nurse to further understand the body and our healthcare system in a way she had never experienced during her work as a healer. She earned her Masters's Degree in Advancing Nursing Practice from the University of Edinburgh in Scotland, the UK, in 2010, and her dissertation was entitled "Researching Complex Interventions and Holistic Biofield Therapies: A Proposed Phenomenological Study of Reiki." She sought a different and holistic approach to nursing and has been trailblazing her path ever since. In 2020, she earned her Cannabis Nursing certification through the Pacific College of Health Sciences.
Lifestyle medicine, in collaboration with Nurse Coaching and Cannabis Nursing, focuses intently on the goals of the patient, the client, and the community in which they live. Using Cannabis as a supplement to Nursing care is about helping clients and patients listen to their bodies, honor their innate wisdom and intuition, and pay attention, rather than just taking something that will make them go numb. She practices the ethical principles of integrity, nonjudgment, empowerment, and respect for her clients' autonomy.
"…the kind of interventions that we use within lifestyle medicine vary based on the individual because everything comes from this coaching paradigm where the client is the number one authority on their own body."
If you are interested in learning more about cannabis nursing, we encourage you to listen to Ariana's episode of INTEGRATIVE NURSE COACHES in ACTION!. As well as check out our 12-week CannyNurse™ Certificate Program, of which Ayu is a core faculty member and developer.
{{cta('c85337f7-4452-4902-a51f-6e76afe252e8′,'justifycenter')}}