Women's History Month highlights the contributions of women to events in history and contemporary society.
First acknowledged in 1981, it wasn't until 1995 that the month of March in each year was proclaimed as Women's History Month. These proclamations celebrate the contributions women have made in the United States and around the world, recognizing the specific achievements women have made over the course of American history in a variety of fields.
However, there are women from across the globe that have made significantly impacts on healthcare and influenced other women everywhere. We can all name famous women throughout history that have made significant contributions and helped to change the world. Marie Curie, Rosa Parks, Mother Theresa, Ruth Bader Ginsburg, Amelia Earhart, Michelle Obama… the list goes on.
As nurses, we have learned about the women that have influenced the profession of Nursing and how we practice today. During Women's History Month, we remind ourselves of the achievements of these barrier-breaking nurse leaders to inspire and motivate us all through the year.
Highlighting the achievements of 5 Nurse Leaders during Women's History Month
Dorothea Dix, 1802-1887
Dorothea began a crusade as an advocate for the mentally ill. She initiated a statewide investigation of living conditions of the mentally ill in Massachusetts and presented a report of the human rights violations to the state legislature, which led to an expansion and improvement of the state's mental hospital systems. She expanded her investigations into other states and increased awareness across the southern U.S. that the mentally ill deserve fair treatment, care, and concern. She helped advance the specialty of psychiatric nursing.
Mary Seacole, 1805–1881.
In her late forties, Mary travelled from her home in Jamaica to Britain to offer her services as a nurse during the Crimean War (1853-56). Despite being turned down Seacole refused to give up: a woman of mixed-race with a Jamaican mother and Scottish father, she had dealt with prejudice and impediments her whole life. Funding her own passage to the Crimea, Mary established the British Hotel near Balaclava. Nineteenth-century soldiers had no welfare support and Seacole's hotel provided a place of comfort away from battle for the sick. In addition, Mary nursed wounded soldiers on the battlefield earning the title Mother Seacole.
Florence Nightingale, 1820–1910.
Florence led the first official team of British military nurses to Turkey during the Crimean War that was fought between Britain and Russia (1853-56). More soldiers died from disease than wounds in this conflict and Nightingale who tended to the sick, also reported back to the army medical services on how to reduce avoidable deaths.
Nicknamed 'the Lady with the Lamp' for the night rounds she made tending to the wounded and sick, Nightingale continued in her work after the war and was instrumental in establishing a permanent military nursing service and implementing improvements to the army medical services. Florence used her passion for statistics to campaign for better food, hygiene and clothing for soldiers and the poor.
Clara Barton, 1821-1912.
A nurse during the American Civil War, Clara distributed medical supplies, worked near the front lines and treated both Union and Confederate men. Her work earned her the nickname 'Angel of the Battlefield'. After the war she ran the Office of Missing Soldiers, helping thousands of families locate missing relatives and rebury the dead in marked graves. In 1881, Clara established the American Red Cross, serving as its president until 1904.
Virginia Lynch, 1941-.
Virginia initiated the growth in forensic nursing science. While in nursing school, she met victim after victim of sexual assault. Police officers were unable to arrest the rapists as evidence in the form of the victim's clothes, personal items, and specimens were often lost or discarded instead of being turned into the authorities. Lynch made it her mission to improve education around keeping the evidence intact, and how to use it to find criminals.
These are just some of the Nurses that have spoken up, challenged expectations and been on the frontlines of change in recent history.
The International Nurse Coach Association was founded (2012) by Nurses who have done just that. These women will go down in history as change makers, improvers of healthcare, saviors of not only nursing practice but the souls of nurses personally. They have helped us recognize that in order to sit with the suffering of others, we must first care for ourselves. They've taught us that nurses are capable of leading and advocating for a change in healthcare from a disease orientation to one of wellness.
Recognizing Contemporary Nurse Coach Leaders during Women's History Month
Barbara Dossey
Barbara is an internationally recognized integrative, holistic nursing pioneer, a nurse theorist (Theory of Integral Nursing and Theory of Integrative Nurse Coaching), and Florence Nightingale Scholar. She is a Co-Founder of the International Nurse Coach Association and the Nightingale Initiative for Global Health (NIGH).
Barbara has authored or co-authored 25 books including Holistic Nursing: A Handbook for Practice (2016); Nurse Coaching: Integrative Approaches for Health and Wellbeing (2015); The Art and Science of Nurse Coaching: The Provider's Guide for Coaching Scope and Competencies (2021); Florence Nightingale: Mystic, Visionary, Healer (2010). She is a founding member of the American Holistic Nurses Association and a Holistic Nurse of the Year. She is an 11-time recipient of the American Journal of Nursing Book of the Year Award, as well as many other prestigious awards.
Barbara is a member of the ANA's Healthy Nurse Healthy Nation™ Grand Challenge Advisory Board. Those that have had the honor of working alongside Barbara comment on the influence she has made on not only their nursing practice but on their personal journey. She is recognized for her mentoring of others and advocating on how we can continue to walk the talk with a "strong back and soft front".
Susan Luck
Susan is a Co-Founder of the International Nurse Coach Association. Susan has integrated lifestyle health and wellness education into diverse communities, bringing her expertise and passion as a nurse, nutritionist, and medical anthropologist. Susan has authored textbook chapters on Nutrition, Environmental Health and Nurse Coaching. She is a co-author of Nurse Coaching: Integrative Approaches for Health and Wellbeing (2015) and The Art and Science of Nurse Coaching (2013), that led the way to establishing the standards for practice of the Nurse Coach role.
As a concerned global citizen, Susan is the founder of the Earthrose Institute, a not-for-profit organization dedicated to environmental health education and advocacy. She maintains a private practice as an Integrative Nurse Coach® with a focus on nutrition, the environment and brain health. Susan is known for introducing Nurse Coaches to Functional Medicine, a new approach to look at the root cause of disease, and the effect of internal and external factors including nutrition, stress, toxins, genetics and the microbiome on the whole person.
Have you Discovered- Dreamed- Designed- Your Destiny?
This Women's History Month, consider what you can offer or contribute as your legacy to the profession of nursing, or to the world. Nurses have so many talents and insights that can be put to good use based on our education, training, and experience.
Personally, retiring from a job that no longer brought excitement and pleasure gave me the opportunity to delve deeper in an area that brought greater life and career satisfaction.
What is Your Superpower and How Will You Share It with Others?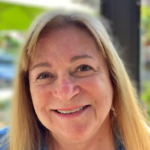 Karen Avino is the Executive Director of Education for the Integrative Nurse Coach® Academy and the International Nurse Coach Associationproviding online and onsite continuing education programs for nurses. As a consultant, Karen helps healthcare organizations create optimal healing environments and integrate holistic nursing into practice. Karen taught Holistic Nursing and Integrative Health for 20 years in online and on campus classes at the University of Delaware. She received the Faculty Senate Excellence in Academic Advising and Mentoring Award. She also received the Delaware Excellence in Nursing Practice Award as Nurse Educator. She has over 40 years of experience in Maternal-Child Health, Administration, Community Health, Holistic Nursing and Nurse Coach practice. She is board certified as both an Advanced Holistic Nurse and a Health & Wellness Nurse Coach. Karen is a Reiki Master, Stress Management Instructor, HeartMath, and Clinical Meditation and Imagery Practitioner. Karen is a Director-At-Large board member of the American Holistic Nurses Association and a founding leader of the Delaware Chapter (DEAHNA). She is an author and editor of Holistic Nursing: A Handbook for Practice (2016, 2021) and Core Curriculum for Holistic Nursing (2014). Karen is a Peer Reviewer for the Journal of Nursing Scholarship and Holistic Nursing Practice journals. She is an international and national speaker on holistic and integrative topics.