An Introduction to Integrative Nurse Coaching: One-day Conference in Amarillo, Texas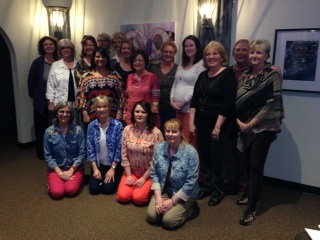 Among the many positive experiences of being an integrative nurse coach is the opportunity to share the work with like-minded nurses. On March 29, 2014, a group of 15 wonderful nurses who live and work in the Texas Panhandle attended a One-Day Introduction to Integrative Nurse Coaching facilitated by Advanced Integrative Nurse Coaches, Dr. Lisa Davis and Dr. Heidi Taylor. The workshop was approved for 7.44 CEU by the Texas Nurses Association. During the workshop, attendees were introduced to nurse coaching, shared healing stories, practiced nurse coaching competencies, participated in self-care activities, and enjoyed a nourishing lunch of home-made soup provided by the facilitators. The workshop was held in a meeting space filled with art at Chalice Abbey, a Fair Trade Emporium in Amarillo, Texas, and the attendees enjoyed shopping for interesting items from around the world during breaks.
Responses to the workshop were highly positive. One participant said, " This was inspiring and positively impacted my thinking, my heart, and began a healing process that I have so desired. Because of this, I feel that I will be able to make a difference!" Among the many changes that participants reported they planned to make as a result of participating in the workshop are: to focus on better listening, take time to center and breathe, spend more time affirming than correcting, to be present, and to think about intention before actions.
Collegial sharing and connection was a highlight, and participants were reluctant to leave at the end of the day. New friendships were made, old relationships were rekindled and the healing energy was evident throughout our experience together. Several participants voiced interest in learning more, and attending the INCA workshops to become nurse coaches. We hope to offer another 1-day workshop in the Fall 2014.
{{cta('614c28c4-945c-498a-ab08-3d9a3131f80a','justifycenter')}}