As a nurse, do you wonder, "Why am I here? This isn't what I expected." Do you think, "I am a nurse because I want to help; I love connecting with people, listening and being part of their healing; so why do I feel disconnected to my deepest desires?" You are not alone. We felt it too; an uncomfortable and isolating feeling. A mismatch between intentions and the chaotic environments preventing us from living the nursing life we love. There is hope in healing. We found it, and so can you.
This is the story of how we – two burned-out critical care nurses living miles apart in different states – connected to share a similar healing journey to become nurse coaches. By embodying self-compassion and the framework of nurse coaching, we became reunited with our passion for nursing and ourselves as whole and unique nurses and human beings.
[elfsight_pdf_embed id="2″]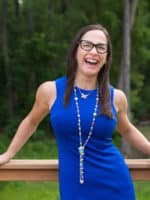 After two decades as an Intensive Care Nurse caring for the sickest of patients, Nicole left the one-size fits all healthcare industry, and created Blue Monarch Health, where she is; Active Aging Specialist, Health Protection Expert and Head Motivator! Instead of waiting for you to get sick, she meets you where you live, work and play, to enhance your health and vitality.
Nicole listens deeply, and takes you by the hand to co-create a health and vitality plan with you, so you can really do it in your life. She is an authentic, heart-centered stick of dynamite, who focuses your energies, builds up your strengths, and leverages your unique gifts!
Nicole Vienneau achieved a Master's in Nursing Science from the University of Arizona, a board certification in Integrative Nurse Coaching™ from the American Holistic Nurses Credentialing Corporation, and is Senior Faculty with the Integrative Nurse Coach™ Academy. She is a Functional Aging Specialist, personal trainer, yoga teacher, and group fitness instructor and a retired Reebok-sponsored Fitness Athlete.  When she's not coaching clients or writing blogs, or hosting the Integrative Nurse Coaches in ACTION! Podcast, you can find her teaching active older adult fitness classes, volunteering with the Alzheimer's Association, lounging in the sun with her cat babies, or on a hike with her awesome husband.
Email Nicole