What is Jin Shin Jyutsu?
Jin Shin Jyutsu® is an ancient art of harmonizing the life energy of the body
It uses a light touch on twenty-six safety energy pathways on each side of the body that feed life into our cells
By placing the hands gently on these specific locations, they act as jumper cables which allow the energetic pathways to open and balance so the energy moves freely through the body
This promotes optimal health and well-being and facilitates the body's own profound healing capacity
It is a valuable integrative modality that induces relaxation and reduces the effects of stress
Holding these energy locks in combination can bring harmony to body, mind and spirit
Jin Shin Jyutsu® study published in Journal of Holistic Nursing
Millspaugh J, Errico C, Mortimer S, Kowalski MO, Chiu S, Reifsnyder C. Jin Shin Jyutsu® Self-Help Reduces Nurse Stress: A Randomized Controlled Study. Journal of Holistic Nursing. July 2020. doi:10.1177/0898010120938922
Purpose:
The purpose of this research was to explore the impact of Jin Shin Jyutsu (JSJ) Self-Help on personal stress and the caring efficacy of nurses.
Design:
A randomized, controlled comparison study, with crossover design was conducted.
Method:
Stress and caring efficacy were measured via surveys at baseline, posteducation, and again 30 to 40 days after completion of the JSJ educational intervention. Self-reported stress was the primary endpoint as measured with the validated Personal and Organizational Quality Assessment–Revised 4 Scale (POQA-R4) survey. Caring Efficacy was measured using the Coates Caring Efficacy Scale.
Findings:
A total of 41 nurses consented and completed the study; 18 were in the education group and 23 were in the control group. Changes in stress were sustained in the education group for the POQA-R4. Changes observed in the control group were not sustained. Statistical differences were observed when comparing education and control from baseline to final surveys for measures of emotional vitality and buoyancy. Increases in nursing caring efficacy were observed in both groups. Scores were consistently higher in the education group. Statistically significant differences were observed from baseline to final measure for the education group.
Conclusions:
Results show JSJ as a viable option for stress reduction in nurses.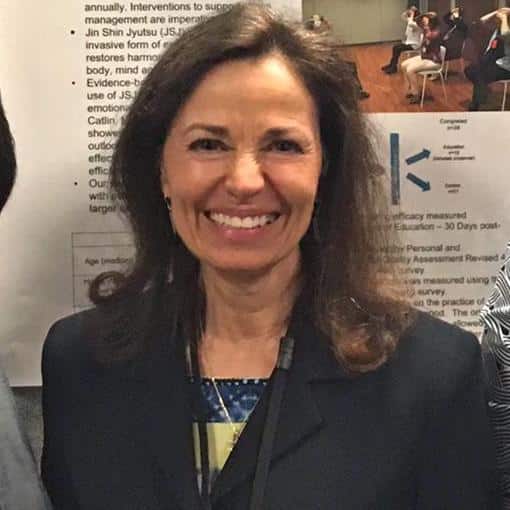 Catherine is a board certified Health and Wellness Nurse Coach working as an Integrative Medicine Practitioner at Morristown Medical Center in New Jersey. She has been practicing Jin Shin Jyutsu (JSJ) for over six years and uses it to help provide relief from pain, anxiety and nausea with patients in the Medical and Surgical Intensive Care units, two surgical floors and the peri-operative area. Since becoming a nurse in 1974, empowering her patients to take more control over their health and wellness has been a priority for her. In addition to providing JSJ sessions, she teaches JSJ self-help to her patients and their family which helps them to feel more in control and calmer. She also enjoys teaching nurses to make self-care a priority to relieve stress, increase overall life balance and increase their healing presence. In addition, she volunteers with out patient oncology patients, using JSJ and laser coaching to help them take their health crisis and use it as an opportunity for positive change in their lives.