by Susan Luck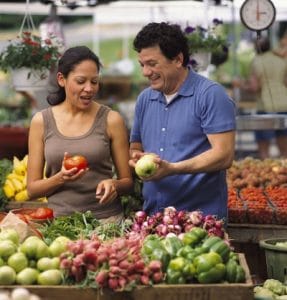 The interest in nutrition for maintaining health and well being is on everyone's mind these days. As the body of research grows along with information, there is also much confusion and many theories and beliefs about what a healthy nutrition plan actually looks like.  Is it the same for everyone? Nutrition is a complex science and yet the basics keep reconnecting us to nature and our ancestral diets.
Here is what we do know: Nutrition, along with a healthy environment and lifestyle has a profound influence on health and longevity and in preventing disease. Through an evolutionary and cultural perspective, our modern day food supply has been dramatically altered  although our nutrient needs have not changed. The human diet has remained constant for thousands of years. It has become common knowledge that foods produced today are processed and denatured, depleted of nutrients, and often contain toxic chemicals including additives, preservatives, pesticides, and many other residues.
At the same time, food and nutrients are no longer viewed merely as providing substances whose absence would produce disease, but as having a positive impact on an individual's health, physical performance, healthy aging, state of mind, and daily quality of life.
It is well understood that nutritionand dietary habits play a central role in almost all chronic health problems seen today as well as common symptoms including inflammation and pain, digestive and gastrointestinal disturbances, and allergies, to name a few. The changes to our food supply contribute to a rising number of health problems throughout the life cycle including learning disabilities, obesity, diabetes, atherosclerosis, heart disease, hypertension, immune and autoimmune diseases and various cancers. An individual's metabolism, environment, genetics, culture, economics, emotional health, and life stressors all play a role in maintaining health and in disease prevention.
Over time, our Standard American Diet (SAD), void of nutrients, can fuel nutritional deficiencies, create disharmony within the cellular structure, and diminish energy exchange within the cell, all essential for healthy cell signaling and healthy cell function. Overt symptoms of nutrient deficiency are the result of a long chain of reactions in the body. Many factors influence our increase demand for energy including stress, illness, and all healing processes.
As nurses, we understand that life depends on an energy flow system and cells must live in harmony in the extra cellular environment. We know that our stressors, our thoughts, our relationships, our environment, and our food all impact our health and quality of life.
How we eat becomes as important as what we eat.
As nurses, often working long hours, we eat meals on the run, foods of little nutrient value (prepared and fast foods), and reward ourselves with comfort foods. How can this contribute to digestive problems, immune system challenges, low energy, hormone imbalances, and mood changes?
In an Integrative Nurse Coach model, in preparation for changing food habits and behaviors, it is essential to begin by increasing one's self awareness.  You can begin exploring your relationship to food and nutrition using the following Nutrition Self Care reflection.
Create a Food Journal and in a quiet moment, ask yourself:
Do my food choices support my health and well being?
How does what I eat affect how I feel?
What is the meaning of food in my life?
What does my body need to enhance my energy and vitality?
Reflecting on my eating patterns and choices, what do I want to change?
What are my activity levels, and how should I include foods that meet my needs?
How do I need to plan for psychological and emotional factors?
What factors, unique to me, influence my food planning and food choices?
I challenge you to become more aware of your food choices and preferences as you plan a day's/week's menu over the next month.
Luck, Susan, Nutritional Healing (2013)  In B.M. Dossey & L. Keegan, Holistic Nursing: A Handbook for Practice (6thed.), (pp.261-292). Burlington, MA: Jones & Bartlett Learning.