One of my passions in my nursing career has been to open up the conversation about 'end of life' in our North American culture. I've watched too many families come to the last days of a loved one's life without having talked about what mattered most to that person. My belief is that our lives are made richer, not diminished, by an open discussion of serious illness and dying. The unnecessary suffering actually comes from denying the presence of death at the end of the life spectrum.
After my years of hospice and wellness work, it was a natural move into the world of integrative nurse coaching. I've listened to many people with serious illness or at the end of their lives express regret, saying they wished they had:
*spent more time doing what was important,
*made their health more of a priority,
*lived with more confidence and courage, and
*appreciated what they had in the small moments of life.
That's why I care about supporting other people –and myself – to take solid steps towards things that matter.

I've started a new coaching practice, called Living Well Nurse Coaching (www..com), which I hope will help move people away from some of those regrets listed above. I'm also creating workshops, retreats and classes for the community on topics of living fully, dying well, and care of the caregiver. One of my favorite projects is a collaboration with the Insight Meditation Community of Washington (IMCW) on an in-depth, experiential course called Sacred Journey: Being Present with Aging, Illness & Dying. During the program, participants who are deeply curious about or have experience with issues related to aging, illness, or dying come together to attend monthly retreats in the DC area from November 2014 to June 2015. Of the (6) teachers leading the course, (3) are long-time meditation teachers from the IMCW community, and (3) of us are experienced hospice& palliative care practitioners. The small-group support sessions throughout the course are modeled on group coaching experiences.
Spiritual traditions invite us to meet the "heavenly messengers" of aging, illness, and dying as gifts. When we meet these messengers with mindfulness and compassion — instead of with fear and resistance — we can transform our experience of them. It is the faith in our collective ability to discover the gifts of these messengers that is the backbone of the Sacred Journey program.
Our intention is to support participants in the following ways:
• Engaging with illness, aging and dying in ways that will help us embrace them on a path toward deeper wisdom and compassion for ourselves and others;
• Strengthening our existing practices of meditation, stillness and gratitude that can bring us to a place of both fearlessness and surrender;
• Developing and integrating practical, skillful practices to address the many layers of challenges inherent in open conversation about aging, illness and dying;
• Sharing about our fears, expectations, and experiences of aging, illness and dying through mindful, compassionate communication that will include talking, listening, silence, music, movement, and more;
• Exploring the ways we may want to re-prioritize our aspirations and relationships in light of what we are learning.
For more information about the Sacred Journey program, click on this link: http://imcw.org/Resources/ArticleDetail/articleType/ArticleView/articleId/204/What-is-the-Sacred-Journey-Program.aspx.
And please feel free to contact me with questions or comments related to this work – I'd love to hear from you.
Jan Booth, RN, BSN, NC-BC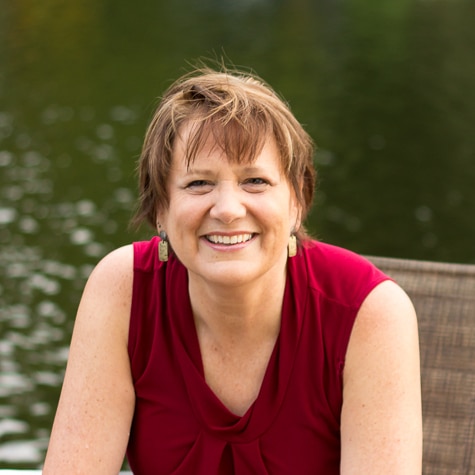 Jan has focused her nursing career of over 34 years on quality of life and wellbeing, primarily through the lens of end-of-life care and health promotion. Within end-of-life care, her past nursing work includes inpatient hospice, palliative care within a major medical center, employee health and wellness for a large hospice organization, and community end-of-life education. Her wellness focus included work as a health educator, wellness trainer, and in wellness program development. Her current work is as an Integrative Nurse Coach™ around the practice of wellbeing in aging, illness, and dying -- supporting people in navigating serious illness, helping families to talk more openly about end-of-life priorities, and providing health coaching for both professional and personal/family caregivers.
Jan has served as faculty for the International Nurse Coach Association | Integrative Nurse Coach™ Academy's Integrative Nurse Coach™ Certificate Program (INCCP) since 2014, and continues as faculty with the new and innovative online INCCP.  With other INCA colleagues, she helped create an End-of-Life Nurse Coaching program in collaboration with the New York Open Center; and co-created an advanced training program for nurse coaches called Coaching Conversations for People Living with Chronic & Advanced Illness.
Jan also serves as faculty for end-of-life coaching and doula programs with the Conscious Dying Institute, and enjoys presenting at workshops and conferences around the country. She self-published a book for nurses and nurse coaches called Re-imagining the End of Life: Self-Development and Reflective Practices for Nurse Coaches, which was honored with the American Journal of Nursing's "Best Books of 2019" award in the categories of Professional Development and Palliative Care.