What started out as an academic exercise has turned into my re-engagement with a community of teachers and wisdom-holders that I knew before I was born.
At the start, the goal was to select a research dissertation topic that would hold my interest for a long while. I was told to choose something that I was passionate about because I would have to eat, sleep, and breathe it for years. It seemed like most of my classmates knew exactly what they wanted to study.
It was so obvious to them but not to me.
I felt compelled, being of Mexican ancestry, to choose something that would be relevant to the Hispanic/Latino population, and was working in holistic health and the complementary and alternative medicine arena. But, I didn't know quite how to connect those two things. Until one seemingly random afternoon (although, I don't believe in coincidences), I was walking to the gym when suddenly it exploded in my mind, and I knew EXACTLY what I was meant to study… the traditional healing system of my ancestors (aka curanderismo)!
Little did I know at the time that what would happen was so much bigger and more profound than any academic exercise.
The journey into my family's Mexican culture, the history of my ancestral lineage, and the science and art of the traditional healing practices of my grandmother and her community have been re-engagement with those that have passed and those that accompany me now.
They continue sharing their knowledge and wisdom, reminding me and others how to live, evolve, and transition into new life/lives. I say "reminding me" because somehow I feel like I've always known… even before this life's journey… and somehow just forgot. I am returning to it now and hope to share it always.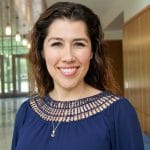 With over 24 years of nursing experience, Caroline's practice combines holistic health approaches with conventional medical care. She is on faculty with the Pacific College of Oriental Medicine's Holistic Nursing Programs and is a PhD candidate investigating the traditional healing practices of Mexican American women.
Caroline has developed and implemented health promotion programs for diverse populations; presented locally, nationally, and internationally to general and professional audiences; and participates in clinical research involving complementary and integrative approaches to health. She volunteers with inter-professional medical missions to Guatemala as part of the Integrative Health Project – a volunteer group of holistic nurses and Chinese medicine practitioners. She is also actively involved with the National Association of Hispanic Nurses – New York Chapter.
Caroline earned a Bachelor of Science in Nursing (BSN) from the University of the Incarnate Word in San Antonio, TX, a dual Master of Science degree in Advanced Public Health Nursing (MSN) and Urban Public Health (MPH) from City University of New York– Hunter College and is a student in Villanova University's PhD in Nursing Education program. She is a graduate of the Integrative Nurse Coach® Certificate Program and a board-certified nurse coach (NC-BC).