Going virtual is a whole new avenue for creating a sacred space, but it can be done easily with a few simple adjustments. Creating a sacred virtual space is easy! This blog contains many things to consider as you continue your important Nurse Coaching work over a computer screen or telephone, so it is a sacred virtual space.
Nurse Coaches are experts at creating safe and sacred spaces for clients to share their hopes, fears, challenges and opportunities through health coaching. In fact, Nurse Coaches are leaders in inspiring positive change in the healthcare system! This can be done 1:1, small groups, large groups, meetings, Healing Circles, and more.
Your Background Says a Lot About You!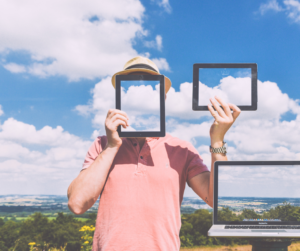 Your background says a lot about you and your life, and I'm not talking about your experience! I'm talking your physical back drop. Is it what you hope to, or want to portray as a professional? Is it cluttered with papers, books, distractions? Is their opportunity to clean it up a bit?
Take a screen shot of you on an electronic meeting, then constructively assess how your backdrop really looks. How can you spiff it up, so it reflects how you'd like to be portrayed?
Set Up in a Quiet Environment
Again, your environment says a lot about you, so set up in a quiet environment. People cooking or walking behind you, or a child running by in diapers may be your reality, however obvious distractions are diversions from the task and sacredness of the space you are trying to create.
Try to avoid loud spaces like coffee shops or other noisy places. If you're only choice is to work in a coffee shop, arrive early so you get the best seat in the house, the one in the far back corner, so no one can walk behind you, and wear a separate headset and microphone, not just your computer.
Set Agreements
Let's face it, humans all have differing agendas. When you set shared agreements upfront, you avoid misunderstandings, and create a safer, trusting space between all parties.
Use Candles to Set the Sacred Virtual Space
Lighting a candle has a way of setting a sacred tone for anyone who sees it, so use candles to set the sacred virtual space. Take a moment of pause and light a candle that you and your client can focus on as you both set an intention for the meeting.
You might even ask your client to bring their own candle and match, and you can both light your candles together.
Insert Nature
Nature has a way of creating calm and focus. Consider adding a plant (real or fake) to your background. Try a session sitting outside with a tree, water, or a garden behind you.
Pick some flowers from your garden and pop them into a pretty vase to create a center piece for your client to focus on. Ask your client to create their own center piece, plant or vase of flowers.
Calming Sounds
Music, chimes, light language, songs, can be very valuable. If you use these in your practice, be sure to check your volume before you start an awareness practice, so the tone of the sound is clear and not distorted on the receiving end.
Silence
Silence is powerful. Discuss the importance of silence, and that there will be space for quiet within a session. Silence is one of the most important concepts to create a sacred virtual space.
Distractions Off
Agree to turn phones and device distractions off. Remember the home phone too! It inevitably will ring right in the middle of a meditation. Turn off email or appointment reminders too!
Begin (or end) with a Reading
Poetry, a special quote, a relative passage from a book you are reading can open up new possibilities. Find something to special that your client may relate to, or that you think is very special.
Avoid Abrupt Endings
Ever get kicked off a meeting at the end without getting to say good-bye? It's unsettling! If you are hosting the meeting, allow people to leave gradually on their own, versus clicking the 'end' button abruptly.
Check Your Expression
Facial expressions are magnified on video. Check your expressions every so often to see what you are doing. Be brave to watch a video recording of yourself so you know how you look!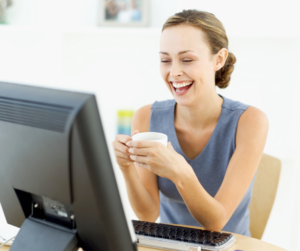 Look into Your Camera
It's difficult to make eye contact in a virtual platform, but on occasion remember to look directly into your camera. It will appear you are looking directly into your client's eyes. No need to do it the whole time, because, well, that can be weird.
Manage Time
There is no telling where a coaching conversation will go, if you fail to manage time the end of your session may feel rushed and abrupt. To ensure a smooth end of call transition, allow tim
e to summarize, establish goal setting, set a calendar date for the next session and still have enough time to smoothly, and calmly say good-bye.
Save bout 20 minutes before the scheduled end of the call to manage your session closure in peace.
Don't be so Serious
Yes, Nurse Coaching is serious business, however, it's ok to have some fun with your clients too. Let them see you are truly human.
Be Patient with Yourself
Be patient, going virtual can be intimidating. So much equipment, buttons, doo-dads, and it may seem like everyone is doing it, but even the seasoned pros had to learn at some point! Practice with a friend or peer, so you feel comfortable before your session. Test your equipment, sound, and camera before your session. It's ok to let your client know you are new to the virtual scene and allow yourself to be a little vulnerable. Improve after each session.
What tips have I missed? Please share your successes in a comment below. Creating a sacred virtual space in a Nurse Coaching practice takes all kinds of ideas. Share yours to help your fellow colleagues be successful! Want to learn more about Nurse Coaching? Click here>>>
{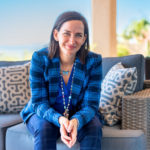 After two decades as an Intensive Care Nurse caring for the sickest of patients, Nicole left the one-size fits all healthcare industry, and created Blue Monarch Health, where she is; Active Aging Specialist, Health Protection Expert and Head Motivator! Instead of waiting for you to get sick, she meets you where you live, work and play, to enhance your health and vitality.
Nicole listens deeply, and takes you by the hand to co-create a health and vitality plan with you, so you can really do it in your life. She is an authentic, heart-centered stick of dynamite, who focuses your energies, builds up your strengths, and leverages your unique gifts!
Nicole Vienneau achieved a Master's in Nursing Science from the University of Arizona, a board certification in Integrative Nurse Coaching from the American Holistic Nurses Credentialing Corporation, and is Senior Faculty with the Integrative Nurse Coach® Academy. She is a Functional Aging Specialist, personal trainer, yoga teacher, and group fitness instructor and a retired Reebok-sponsored Fitness Athlete.  When she's not coaching clients or writing blogs, or hosting the Integrative Nurse Coaches in ACTION! Podcast, you can find her teaching active older adult fitness classes, volunteering with the Alzheimer's Association, lounging in the sun with her cat babies, or on a hike with her awesome husband.
Email Nicole