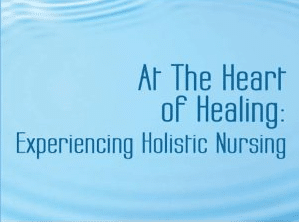 At the Heart of Healing is a unique study course in Holistic Nursing process and practice.
This innovative DVD provides nurses in all healthcare settings an opportunity to experience holistic nursing practices that facilitate the inner mechanisms of the healing response.
At the Heart of Healing explores, teaches, and demonstrates:
Integration of Mind/Body modalities including biofeedback, therapeutic touch, guided imagery, and polarity therapy.
Effective holistic interventions for pain management and stress reduction.
current research in the fields of Psychoneuroimmunology and energy medicine.
Tools for enhancing personal health and self care.
The role of holistic nursing in integrative healthcare today.
Featuring many nurse healers and pioneers in the forefront of research and practice in holistic healthcare including:
Barbara Dossey, PhD, RN, AHN-BC, FAAN
Author of Holistic Nursing: a Handbook for Practice and Florence Nightengale: Mystic, Visionry, Healer
Dr.Barbara Joyce,PhD R.N.
Former Director of masters degree program in Holistic Nursing,College of New Rochelle
Dr. Veda Andrus PhD, R.N
Former President of the American Holistic Nurses Association, Founder of Seeds and Bridges Center for Holistic Nursing Education
Jeanne Achterberg, PhD
Author of Imagery and Healing: Shaminism to Modern Medicine and Woman as Healer
Patricia Heidt, PhD, RN
Pioneer research with Dolores Krieger on Therapeutic Touch and Energy Healing
Joan Borysenko, PhD
Former Director of the Mind/Body Clinic at Harvard Medical School
Rachel Naomi Remen, M.D.
Medical Director of Commonweal, a spiritual community. Author of The Human Patient and Kitchen Table Wisdom
Susan Luck RN, BS, MA, HNC, CCN
Director of Integrative Nursing Institute and author of Holistic Nursing: A Quiet Revolution
Bonney Schaub, RN, MS, PMHCNS-BC
Director of the Psychsynthesis Institute of New York
Jeanne Anselmo, BSN., RN.
Holistic Nurse Consultant. Former President of the Biofeedback Society of New York
Dorothy Larkin, M.S.,R.N.
Professor of Holistic Nursing, College of New Rochelle, Psychiatric Clinical Nurse Specialist
Ebun Adelona, PhD, R.N.
Anthropologist, Holistic Nurse Consultant and author of Save Yourself :A Practical Guide for Understanding Energy, Emotions, and Health.
 And many others who share their vision and practice of Body/Mind/S pirit integration into their personal and professional lives.